Marguerite Duras' 'Memoir of War' on VOD Dec. 18, Disc Jan. 8
Music Box Films Home Entertainment Presents: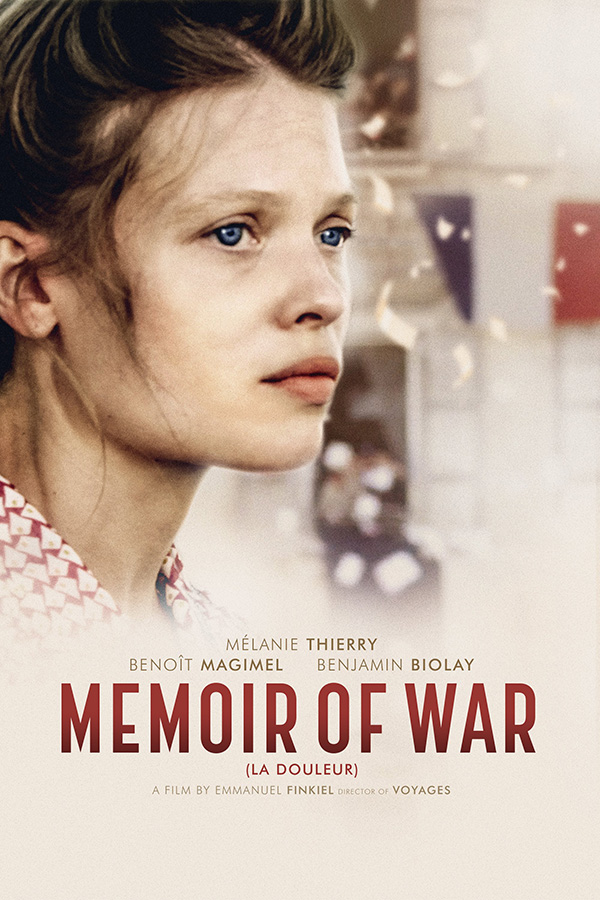 Memoir of War
THE HAUNTING ADAPTATION OF MARGUERITE DURAS'S SEMI-AUTOBIOGRAPHICAL NOVEL STARRING MÉLANIE THIERRY COMING SOON TO VOD AND DVD 
FRANCE'S OFFICIAL SELECTION FOR BEST FOREIGN LANGUAGE FILM AT THE 91ST ACADEMY AWARDS
"Riveting! Melanie Thierry leaps toward the front echelons of current French actresses with her riveting turn as Marguerite Duras. Thierry is utterly compelling from first to last." - Neil Young, THE HOLLYWOOD REPORTER
"Spellbinding! Thierry is a brilliant Marguerite Duras." — David Ehrlich, INDIEWIRE
"Poetic, ambitious and graceful."  — Guy Lodge, VARIETY
 
Based on Marguerite Duras's semi-autobiographical novel The War: A Memoir, MEMOIR OF WAR follows the famed author as she navigates her way through Nazi-occupied France during World War II.
Directed by acclaimed filmmaker Emmanuel Finkiel (Voyages), MEMOIR OF WAR stars the three-time César Award-nominated actress Mélanie Thierry (A Perfect Day, The Zero Theorem) as Duras, the great novelist, screenwriter, and filmmaker who is widely considered one of the leaders of the "Nouveau Roman" literary movement. Her script for Alain Resnais's 1959 masterpiece HIROSHIMA MON AMOUR earned her a nomination for Best Original Screenplay at the 1961 Academy Awards.
MEMOIR OF WAR will be released on VOD (iTunes, Amazon Instant, Vudu, and YouTube) for the first time on December 18, 2018 (prebook October 23, 2018). The DVD, which includes interviews with director Emmanuel Finkiel and behind-the-scenes featurettes among its bonuses, will arrive on January 8 and carries a suggested retail price of $29.95.
In the film, it's 1944 and Marguerite Duras is an active Resistance member along with her husband Robert Antelme (Emmanuel Bourdieu) and a band of fellow subversives. When Antelme is deported to Dachau by the Gestapo, Marguerite becomes friendly with French Nazi collaborator Rabier (Benoît Magimel) to obtain information of her husband's whereabouts. But as the months wear on with no news of Robert, Marguerite must begin the process of confronting the unimaginable.
Using subtly expressionistic imagery (in collaboration with cinematographer Alexis Kavyrchine) and voiceover passages of Duras's writing, filmmaker Finkiel evokes the inner world of one of the 20th century's most revolutionary writers while also tackling a subject that is as highly personal as it is emotional.
 "It resonated with my own personal history. A woman who is waiting for her husband to return from the concentration camps, and then when everyone returns, he does not…," says MEMOIR OF WAR's writer-director Finkiel of his connection to Duras's memoir. "This character is reminiscent of my own father, who I believe was someone always waiting, even after he knew for certain that the lives of his parents and his brother had come to an end in Auschwitz. For those who had no physical remains, absence was always present. And this wasn't just an intellectual concept, it was something very concrete. The presence of absence…in my opinion, that is what The War is all about: being confronted with this presence. Withdrawing into oneself, an interior voyage."
MEMOIR OF WAR was selected as France's official submission for the Best Foreign Language Film category for the upcoming 91st Academy Awards. The critically acclaimed film was also nominated for Best Film at the San Sebastian International Film Festival and earlier this year received a U.S. theatrical release in the country's top markets by the leading independent film distributor Music Box Films.
More information on MEMOIR OF WAR may be found on the MUSIC BOX FILMS website at http://musicboxfilms.com/films/memoir-of-war.
Memoir of War  
Music Box Films Home Entertainment
DVD RELEASE DATE: January 8, 2019
VOD RELEASE DATE: December 18, 2018
DVD PREBOOK DATE: November 13, 2018
Price: DVD $29.95
Director/screenwriter: Emmanuel Finkiel
Cast: Mélanie Thierry, Benoît Magimel, Benjamin Biolay, Shulamit Adar, Grégoire Leprince-Ringuet, Emmanuel Bourdieu
Running Time: 127 min.
Format: 1.85:1
Sound Format: Dolby Digital 5.1
Rating: NR
Country: France
Language: French with English subtitles
Bonus Features* 
Q&A with director/screenwriter Emmanuel Finkiel from Film Society of Lincoln Center

Featurette: From Melanie to Marguerite

A Conversation with the Film's Technicians

Costume and Make-up Screen Tests

Deleted Scenes
*subject to changes