Copies of the classic film — voted the greatest film of all time by the American Film Institute and scores of other august bodies and critics — have disappeared off the shelves of this country's (remaining) video stores; copies on eBay and Amazon are selling for premium prices. With 2016 marking the 75th anniversary of the film, we've been wondering why Warner Home Video has yet to  reissu the film. Well, the studio is reissuing the film — but only in the U.K. Here's the info, according to Blu-ray.com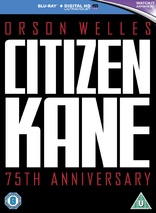 The UK branch of Warner Bros. has officially announced that it will release on Blu-ray Citizen Kane: 75th Anniversary Edition The deluxe box set will be available for purchase on May 2.
The Blu-ray is from the re-mastered 2011 Warner Bros. U.S version of the film now making its UK debut just in time for the film's 75th Anniversary. The set comes with a set of collectables including; 5 x One Sheet/ Lobby Card reproductions, a 48-page book with photos, storyboards and behind the scenes info, a 20-page 1941 souvenir programme reproduction and 10 x production memos and correspondence.
The Oscar-winning film, directed, written by and starring Orson Welles, is considered to be one of the finest achievements in cinema and last year topped the BBC Culture poll of the 100 Greatest American Films. Welles was only 25 years old when he made this, his debut film, a gripping drama which would cement his reputation as one of Hollywood's most influential directors and stars.
With a cast including Joseph Cotten, Agnes Moorehead and Everett Sloane, Oscar-nominated camerawork by Gregg Toland (Wuthering Heights, The Grapes of Wrath), and featuring a debut score by Bernard Herrmann (Psycho, Taxi Driver) this is a film that Time Out says "still amazes and delights".
Special Features:
Commentary by film director Peter Bogdanovich
Commentary by film critic Roger Ebert
1941 newsreel: "Opening: World Premiere of Citizen Kane"
Interview with actress Ruth Warrick
Interview with director Robert Wise (editor of Citizen Kane)
Production Stills Gallery
"Still Photography" featurette with Roger Ebert commentary
Gallery of rare photos, Alternate Ad Campaigns, Studio Correspondence, call sheets and other memorabilia.
Theatrical Trailer
No word yet on any plans to release this edition ion the states. C'mon, WB.