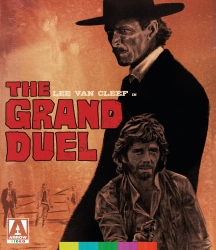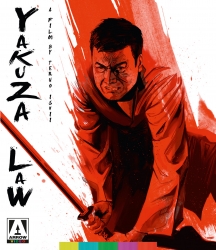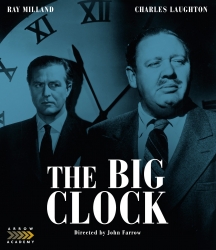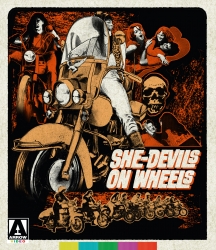 Bikers, gunfights, and murder… Oh my! Arrow's May releases have a bit of everything.
As the weather begins to warm up outside, stay in and cool off with another fun month of releases from your friends at Arrow. With four new exciting titles hitting shelves in May, there's no better way to beat the incoming heat.
The first release, coming May 7th, is Giancarlo Santi's iconic spaghetti western, The Grand Duel. Starring Lee Van Cleef as a sheriff seeking justice for a man accused of murder, The Grand Duel has everything a good western should – gunfights, over-the-top stunts, a tense showdown, and a score you won't soon forget. Arrow is proud to present this film with a stagecoach worth of special features that include brand new interviews with cast and crew, including director Santi, a brand new commentary with film historian Stephen Prince, and a whole lot more.
On May 14th, Arrow brings two new releases starting with Yakuza Law. From director Teruo Ishii, comes a tale of a yakuza lynching during the Edo, Taisho, and Showa periods. In other words, this is an anthology of yakuza torture from the Godfather of J-sploitation, and you better believe it's brutal. This release includes a brand new commentary with film critic Jasper Sharp and a rare, archival interview with Ishii.
The second May 14th release is the 1948 film noir, The Big Clock. A magazine tycoon commits a murder and then attempts to frame an innocent man, while at the same time the innocent man attempts to solve the case. This "dandy clue-chaser," as described by The New York Times upon its initial release, was directed by Oscar-winner John Farrow, and features an all-star cast headlined by Ray Milland, Maureen O'Sullivan and Charles Laughton.
Arrow wraps up their May schedule on May 21st with the release of She-Devils on Wheels. The Godfather of Gore, Herschell Gordon Lewis, takes his talents to a small Florida town where an all-girl motorcycle gang known as The Man-Eaters squares off with an all-male rival gang. Included in the special features is another feature-length film from Lewis, 1968's Just for the Hell of It, also a Florida-set film about a gang of punks leading a small town's youth down a path of destruction and mayhem.