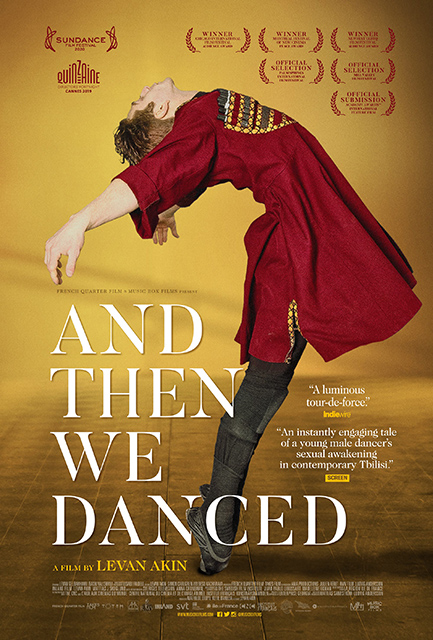 A DEVOTED DANCER RISKS HIS FUTURE AS HE GRAPPLES WITH ROMANCE AND REBELLION IN THIS PASSIONATE TALE OF LOVE AND LIBERATION SET AMIDST THE CONSERVATIVE CONFINES OF MODERN GEORGIAN SOCIETY
Coming to Blu-ray, DVD June 23
VOD on June 2
"And Then We Danced is part political rebellion, part masterpiece romance, and a true privilege to witness!" -Taryn Allen, CHICAGO READER

Critics Pick! "A luminous tour de force…one of the year's best gay films."

-Judy Dry, INDIEWIRE

"One of the most intimate, devastating and euphoric love stories ever told on screen." -Iana Murray, GQ "Levan Akin's And Then We Danced is giddy with the pleasures of first love — how it pulsates through the body and mind."

-Clarisse Loughrey, INDEPENDENT (UK)
From acclaimed writer/director Levan Akin comes AND THEN WE DANCED, a passionate coming-of age tale of love, liberation and desire set in the dance world as it exists in the conservative confines of modern Tbilisi.

AND THEN WE DANCED follows Merab (Levan Gelbakhiani), a devoted dancer who has been training for years with his partner Mary (Ana Javakishvili) for a spot in the National Georgian Ensemble. The arrival of another male dancer, Irakli (Bachi Valishivili)—gifted with perfect form and equipped with a rebellious streak—throws Merab off balance, sparking both an intense rivalry and romantic desire that may cause him to risk his future in dance as well as his relationships with Mary and his family.

"I interviewed a lot of dancers and they all told me stories of how gender conservative and strict the Georgian Dance scene was. So, I decided to set the story in this setting," said filmmaker Levan Akin, who is of Georgian descent and lives in Sweden. "With AND THEN WE DANCED, I find myself really going back to my roots as a filmmaker, working in an organic way, where the real lives of the people in the film and what's going on in Georgia now affects the story. It is ever evolving. Telling the story of young LGBT+ people and their struggles on a smaller scale but also showing the history and situation of Georgia today on a larger scale."

Sweden's official submission for Best International Feature in last year's Academy Awards, AND THEN WE DANCED has garnered an outstanding 93% Certified Fresh rating at Rotten Tomatoes. Continuing its roll-out to the U.S.'s top markets, it will be released on Blu-ray, DVD and VOD (iTunes, Amazon Instant, Vudu and YouTube) for the first time on June 2, 2020 (prebook April 28, 2020). The Blu-ray and DVD carry the suggested retail prices of $34.95 and $29.95, respectively.
And Then We Danced
Music Box Films Home Entertainment
VOD Release Date: June 2, 2020
Blu-ray, DVD Release date: June 23, 2020
BLU-RAY and DVD PREBOOK DATE: May 19, 2020
Price: BLU-RAY: $34.95
DVD $29.95
Director: Levan Akin
Cast: Levan Gelbakhiani, Bachi Valishvili, Ana Javakishvili